Schaub vs Brady, Part II:
Brady is having an MVP-type season once again. With a win against the Texans, Brady can become the all-time playoff leader in wins. Schaub is just getting started, winning his first playoff start last week (Schaub missed last year's postseason run with a foot injury). However, since their week 13 meeting, Schaub hasn't thrown the ball as he did before this meeting. He needs to get back to how he was playing during the 12-1 start in order to at least match up with Brady's performance he did to this Texans team in week 13.
Will Arian Foster who the world that the Texans aren't frauds?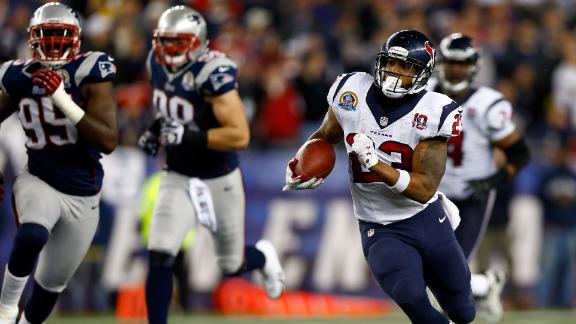 Arian Foster took offense to what Boston Globe columnist Dan Shaughnessy said about the Texans being frauds and that the Patriots will have 2 bye weeks before the AFC Championship Game. Foster put those quotes on his twitter profile and now has a chip on his shoulders. Will if the Texans want the world to know that their for real, Foster will have to be most involved then he was back in December. 15 carries for 49 yards isn't going to win you no playoff game for a top 5 RB in this league.
Will the Texans Defense show up this time?
The second time around for the Texans should be a better one then the first. It better be, if the Texans want to go to and play in the AFC Championship game. This defense has been getting touched since their last meeting with the Patriots back in December. If it was for a few missed throws from Andy Dalton last week and we could be talking about the Bengals/Patriots instead of the Texans. There defense have to get back to playing the way they we're during the beginning of the year, even though that could be tough because of the Brian Cushing injury earlier in the season. I do believe that the Texans will show up and play better on defense, but the question is can they force turnovers and make big stops as well? If so, then they could win but if not, then we could be seeing another blowout.
Dangerous game for the Patriots?
If you're a Pats fans, before you go off saying that your team will annihilate the Texans, remember what happened just two seasons ago. A 42-3 molly-whopping of the Jets, only to have them come back to Foxboro a month later and have a dominating performance from their defense as they won that AFC Divisional Game 28-21. Well just a month ago, the Pats slapped around the Texans 42-14 and now here's the rematch. We'll find out if Dan Shaughnessy is right (or wrong) about the Texans being frauds.
X-Factors: Texans CB's vs Patriots WR's
Can the Texans CB's force turnovers and control the Pats WR's?
Confidence Picks: Texans (23) vs Patriots (7)
QB: Schaub (7) vs Brady (1)
Defense: HOU (8) vs NE (5)
Coaching: Kubiak (8) vs Belichick (1)
Prediction: 28-24, Patriots